BUTTERFLY VALLEY BY BUS
Daily 09:00 – 14:00
Adults 15€ / Children 6 – 12yrs 8€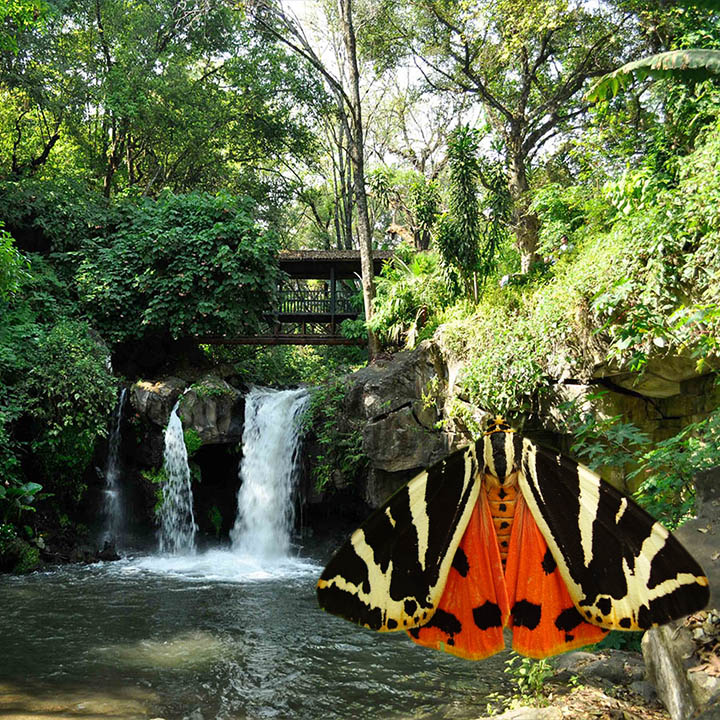 PROGRAM
09:00 Pick-up time from your hotel
Driving distance one way – 40 min
Free time in the Valley – approx. 3 hours
14:00 Return to your hotel
RESERVATIONS WITHOUT PREPAYMENT
PAYMENT IN OUR OFFICE 3 DAYS BEFORE THE EXCURSION
OVERVIEW
EXPLORE THE FAMOUS BUTTERFLY VALLEY
Be one of thousands of visitors in Rhodes discovering a rare type of Butterflies in their natural biotope with little lakes decorated by water-lilies, narrow rock walkways, waterfalls, wooden rustic bridges and romantic paths across the forest.
OVERVIEW
The renewed Valley of the Butterflies is one of the most unusual biotopes in Europe. It was founded and built by ITALIANS during the Italian dictatorship in Rhodes. It is a luxuriant ravine with abundant running water that attracts thousands of visitors every summer. This is a bellowed place of butterflies (belonging to the species Callimorpha Qudripunctaria Himalaiensis, first discovered in Himalayas).
The butterflies live in the valley during the summer, mate and fly away in September with the first rains. Both butterflies and visitors are attracted by the SWEET SMELL of resin and the coolness of the surroundings which does not change even in the hottest summer days. There is a quaint restaurant built in ALPINE style at the ground level of the valley, where you can have a refreshing drink.
The very bottom of the Valley hosts a small MUSEUM exhibiting the wild nature of Rhodes. The very top of the Valley houses a little MONASTERY KALOPETRA with a beautiful panoramic view to the West coast. You can enjoy a ride to the top of the Valley with a little open-train!
HIGHLIGHTS
Walk slowly through the valley quietly admiring the nature.
Discover butterflies Callimorpha Quatripunctaria Himalaiensis.
Reach the Kalopetra monastery at the top of the Valley & drink fresh orange juice or Greek coffee from the local ladies.
Head towards the very bottom of the valley and visit the Museum of Rhodes Nature.